04 March, 2020 Vac Travel
Trang An Heritage offers visitors a unique and unforgettable experience, with its natural beauty, rich history, and cultural significance. It is a must-visit destination for those looking to explore the beauty of Vietnam's countryside and immerse themselves in the country's rich history and culture.
Trang An Heritage - Travel Destination Vietnam
VAC TRAVEL – Trang An Heritage is also known as "Twin Heritages" as Trang An is both cultural and natural world heritage in Vietnam and this is the only place that owns these amazing characteristics. Trang An is located in the Rock Mountain area with very interesting formations leaving Trang An with amazing landscapes. Travelers who love natural and cultural tours in Vietnam will be amazed when coming to this area.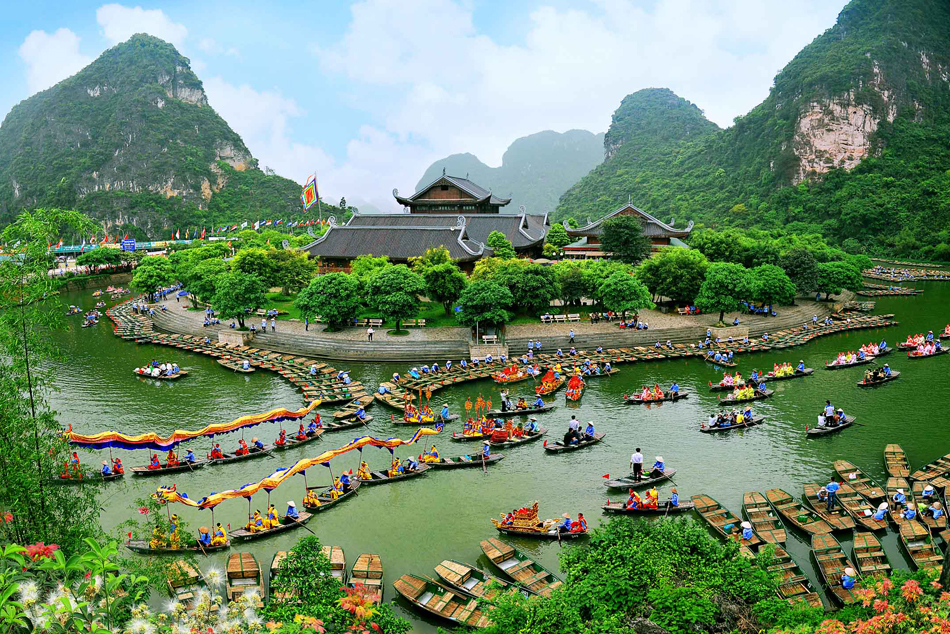 The Trang An complex includes a network of interconnected waterways, limestone caves, and ancient temples and pagodas, covering an area of over 10,000 hectares. The complex is home to a diverse range of flora and fauna and is considered an important ecological and geological site.
The Trang An complex is also an important historical and cultural site, with evidence of human habitation dating back thousands of years. The area was once the site of the ancient capital of Vietnam and is home to a number of temples, pagodas, and other cultural landmarks that reflect the country's rich history and heritage.
WHERE IS TRANG AN HERITAGE?
Trang An Scenic Landscape Complex is located in the northern province of Ninh Binh in Vietnam, approximately 100 km south of Hanoi. The complex covers an area of over 10,000 hectares and includes a network of waterways, limestone mountains, and historic temples and pagodas. Trang An is easily accessible by road from Hanoi and is a popular day trip destination for tourists visiting the capital city.
The property covers 6,226 hectares within the Trang An limestone massif and is surrounded by a buffer zone of 6,026 hectares, mostly rural land with rice paddy fields. There are about 14,000 residents, the majority of whom are families involved in subsistence agriculture, but much of the property is uninhabited and in a natural state.
Trang An Heritage is of global significance as an outstanding humid tropical tower-karst landscape in the final stages of geomorphic evolution. It is composed of a variety of classical karst cones and towers and a network of enclosed depressions connected by an intricate system of subterranean waterways, some of which are navigable by small boats. The area is unique in having been invaded by the sea several times in the recent geological past but is now emergent on land.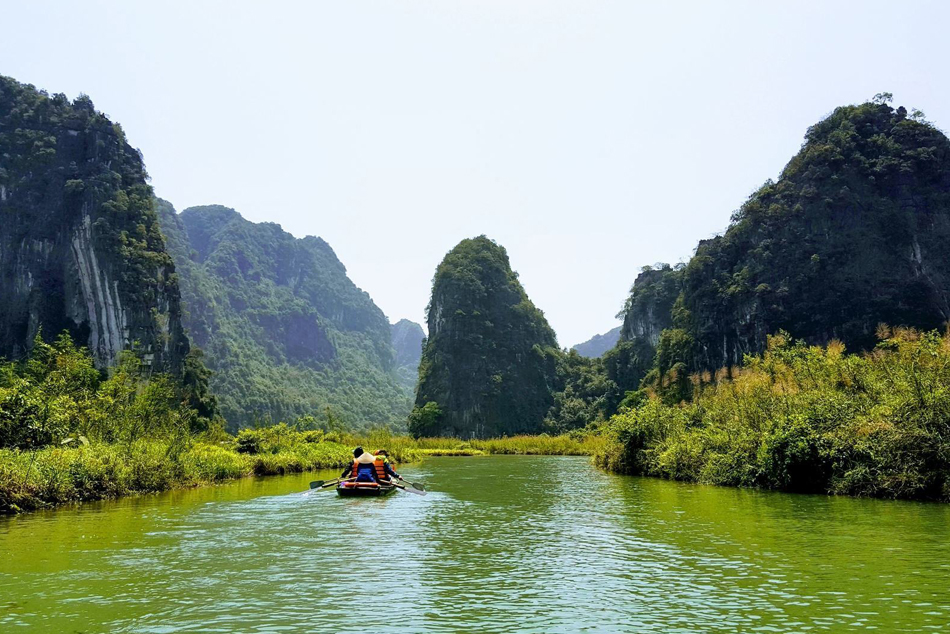 The blend of towering mountains draped in the natural rain forest, with large internal basins and narrow cave passages containing quietly flowing waters, creates an extraordinarily beautiful and tranquil landscape which is a wonderful place to visit while taking tours of Vietnam. Archaeological deposits in caves reveal a regionally significant, continuous sequence of human occupation and utilization spanning more than 30,000 years. There is convincing evidence showing how early human groups adapted to changing landscapes in the massif, including some of the most extreme climatic and environmental changes in the planet's recent history.
HOW TO DISCOVER NINH BINH - TRANG AN WORLD HERITAGE?
Trang An - Ninh Binh is a very convenient location to discover, you could get there by car from Hanoi which takes a 2-hour drive. if you wish to use the local train that is also possible.
Discover the Trang An and Ninh Binh is an option for you whether for a day trip or an overnight trip.
For those who have a limited time, you could do a 1-day trip to discover Trang An world heritage.
The best way to explore the Trang An complex is by boat. There are several boat tours available that take visitors through the waterways and caves, allowing them to witness the beauty of the limestone mountains and ancient temples.
Explore the Hoa Lu Ancient Capital: The Hoa Lu Ancient Capital was the political and cultural center of Vietnam in the 10th and 11th centuries. Visitors can explore the ruins of the ancient capital and learn about Vietnam's rich history.
For those who have more time and wish to stay overnight in Ninh Binh for more activities, you could spend time there, boating, cycling, hiking, and enjoying a quiet stay in the village.
Go hiking or biking: Ninh Binh is home to beautiful landscapes and countryside, and there are several hiking and biking trails available for visitors to explore. This is a great way to experience the natural beauty of the region.
Visit local markets and villages: Ninh Binh is home to several traditional villages and markets, where visitors can experience local culture and cuisine, as well as purchase handmade crafts and souvenirs.
There are many ways to discover Ninh Binh and the Trang An World Heritage site, from exploring the waterways and caves to hiking or biking through the beautiful countryside. With its rich history, stunning landscapes, and unique culture, Ninh Binh is a must-visit destination for anyone traveling to Vietnam.
You also could combine the tour and traveling Hanoi - Trang An - Halong Bay within a night stay on the cruise.
Newsletter Subcribe
Please fill in your email to get update from us